Alpi Aviation SA:
Flight training, tailwheel conversions, aerobatic training, aircraft sales - Krugersdorp, Johannesburg, South Africa

AvDex:
Aircraft Maintenance Organization software solutions - South Africa

Aviatech Flight Academy:
Flight training and aircraft chartering from Jack Taylor Aerodrom, Krugersdorp, Gauteng, South Africa
Aviation Art by Retha:
Aviation Art of any aircraft or scene - Krugersdorp, Gauteng, South Africa

Aviation Assist:
Consultation and courier service for the South African Civil Aviation Community
Aviation Direct:
Flight planning and weather and in-flight navigation systems - Southern Africa

Aviation Software by Avdex:
Aircraft Maintenance Organization software solutions - South Africa

Avoiding Fatal Flying Traps:
Aiviation Safety
Capital Sound:
Outside broadcasting services in South Africa.

Century Avionics:
Avionics sales, installations, maintenance, support and modifications
Christian Aviation Network:
Comet Aviation Supplies:
The Leading On-Line Aviation Superstore in Africa!
Dakota Lodge:
Situated at the historic Rand Airport, the Dakota lodge offers 24 en-suite rooms
Eye Level:
Full service optometry from eye examinations to 1 hour on site lab spectacles
General Pilot Supplies:
ASA (Aviation Supplies and Academics) Distributor in southern Africa
Highveld Garage Equipment CC:
Quality garage equipment, tools and pumps - South Africa

Hippo Pools:

MCC Aviation:
Mcubed Media:

Micro Aviation:
Bat Hawk aircraft primarily for surveillance and conservation asmost affordable light sport aircraft on the market.

NAC - National Airways Corporation:

Paramount Aviation Academy:
Flying training in Bethlehem, South Africa
Peak Aviation:
Aircraft Maintenance, rebuilds & repairs - Krugersdorp, Gauteng, South Africa
PilotInsure:
Pitts Special Flights:

PJ Aviation:
Placo:
Aircraft Maintenance, Parts & Salse - South Africa
Pratley:
Cable glands, high performance adhesives - Krugersdorp, South Africa

Propeller Centre:
PSG Aviation:
Aviation insurance consulting in South Africa
Rag & Tube Aircraft Covering:

RV Bits:

SignCo:
Aviation Signage Specialists
Simuflight:
Flight Simulation Training in South Africa
Sky Reach - Bush Cat:
Springbok Classic Air:
Africa Air Tours, Discover Africa. Scenic Air Flights and Events
The Airplane Factory (Pty) Ltd:
The Aviation Shop:
Aviation art, books, software and toy retailer in South Africa

Tilt Tech - Spot G3 Tracker:

Van's Aircraft:
RV Aircraft Kit Manufacturing and Supply

Wavecrest Beach Hotel:
Westline Aviation:
Flight Training, Aircraft Charter, Fuel Supply - Bloemfontein, South Africa
Wings 'n Things: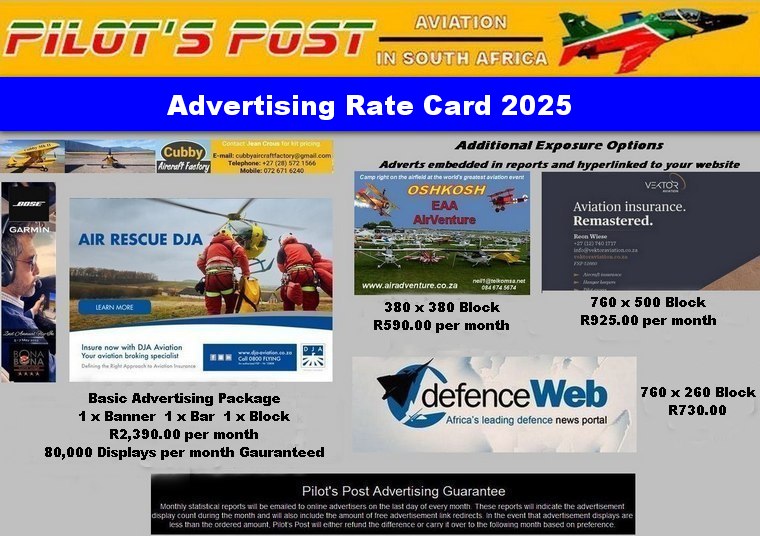 Copyright © 2015 Pilot's Post PTY Ltd The information, views and opinions by the authors contributing to Pilotís Post are not necessarily those of the editor or other writers at Pilotís Post.